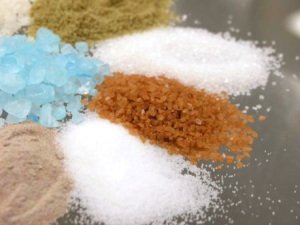 On January 19th, the Nevada Pharmacy Board issued an emergency order making the synthetic drug known as "bath salts" a schedule I drug, thereby preventing the drug from being sold, purchased, or consumed legally. Synthetic bath salts generally state "not for human consumption" on the packaging and were previously found in many Las Vegas smoke shops. The designer drug is usually taken by sniffing, smoking, or intravenously. Bath salts are said to mimic the effects of cocaine, crystal meth, ecstasy, and even LSD. Numerous deaths and health complications across the nation have also been linked to their use.
Ohio, Louisiana, Oregon and other states are finding, however, that a ban on the synthetic bath salts is not without problems. Banning a chemical compound still leaves room for creative chemists to alter single parts of the compound while maintaining the drug's effect on the user. Nevada has also seen similar issues when it banned certain ingredients used in chemically created cannabis (also called "herbal incense" or "spice"). Chemists simply altered the makeup of the synthetic cannabis and continued manufacturing similar products.
The decision made by the Nevada Pharmacy Board is only temporary (120 days) while the legislative commission on regulations decides whether or not to make the ban permanent. However, with the temporary ban, it's possible for a person to face criminal charges, even for possession of synthetic bath salts in Las Vegas. A conviction for drug charges can prove problematic on a person's future employment options, scholarships, government funding, and special licenses.
Under Nevada Revised Statute § 453.66, a person can be charged with possession of a controlled substance if he or she knowingly possesses certain types of drugs. With possession of a schedule I drug, first time and second time offenders can potentially be convicted of a class E felony. This is punishable with between one and four years in prison and / or a fine up to $5,000. Possession of a schedule I drug for third time offenses can be punished as a class D felony with between one and four years in prison and / or a fine up to $20,000. Penalties for possession of a controlled substance with intent to sell or drug trafficking in Nevada are also severe, even for a schedule I drug.
If you have been arrested on charges of possession of synthetic bath salts, possession of synthetic bath salts with intent to sell, or trafficking in synthetic bath salts, it's critical to understand your legal options. A Las Vegas drug lawyer can help you fight these charges, using details surrounding the case to your advantage. This may include finding instances of constitutional rights violations, failure to read Miranda warnings, improper investigation procedure, lack of knowing possession, and other potential factors. Regardless of the circumstances surrounding the arrest or the type of drug allegedly used, it's important to never take a drug charge lightly.